To create a new dynamic palette, choose the New command from the Palettes menu (the Palettes menu is in the Tools menu). An empty palette appears in the Palette window.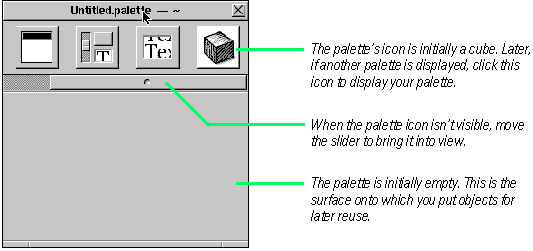 As with the standard Application Kit palettes, you can choose an existing dynamic palette by clicking its icon in the Palette window (when created, dynamic palettes have the generic cube icon). To use an object on a dynamic palette, follow the same procedure as for objects on the standard palettes: Drag the object from the palette and drop it on an appropriate surface.
You must save your dynamic palettes. If you do not save a palette after you create it, you lose it when you quit Interface Builder. Choose the Save command to save dynamic palettes, but the Save command from the Palettes menu, not the Document menu.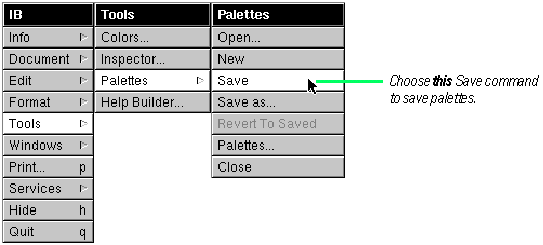 You can customize the icon for your dynamic palette. The last task in this chapter, "Managing Palettes," tells you how to do this and also describes how to remove and unload palettes in Interface Builder.
Interface Builder brings up the Save panel, allowing you to designate a name to save the palette under.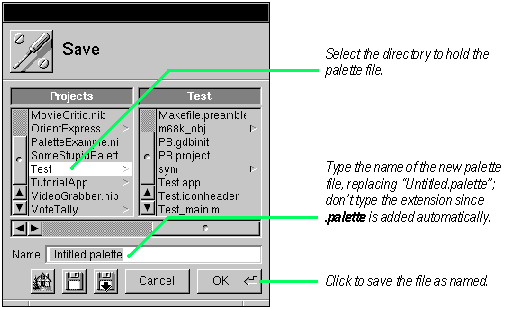 Tools for Interface Crafters: Static and Dynamic Palettes
A palette is a special View that holds one or more reusable objects. You can add these objects to your application's interface using the drag-and-drop technique. There are two types of palettes: static and dynamic. To the user, they seem identical, but the differences are many.
Static palettes are built as a project and have code defining their objects; dynamic palettes include no special code--they're unique configurations of (mostly) standard kit objects. Consequently, static palettes must be compiled, but you can create dynamic palettes on the fly, without writing and compiling code. Objects on static palettes can have inspectors and editors, which dynamic-palette objects cannot have.
You usually create a static palette as a way to distribute your objects--and the logic informing these objects' behavior--to potential users. Many developers of commercial NEXTSTEP objects make use of static palettes as a distribution media. Creating static palettes (and their inspectors and editors) is a more complex process than creating dynamic palettes, but the resulting product has more value added to it.
Dynamic palettes are a great convenience. You can save collections of your objects, with or without their interconnections, to a dynamic palette at any time. You can save dynamic palettes and store them in the file system, just as you do with the traditional compiled palette. You can remove the palette from the Palette viewer and, when you need it again, just load it back into Interface Builder.
The possible practical uses of dynamic palettes are numerous You can use them to: