The Coordinate System in Interface Builder
The Size display of an object's Inspector panel shows that object's precise location and dimensions. The x and y fields hold the origin point (horizontal and vertical) for the object within the drawing context of its enclosing window or panel. The w and h fields hold the width and height. All values are in pixels.
Within a window or panel, the lower left corner is origin 0,0. This is the point of reference for objects within that window or panel.
Therefore, when you move or size objects downward or to the left, the values in the Size display are decremented.
The point of reference for a window or panel (or origin 0,0) is the lower-left corner of the screen. This means that the same relationship applies: if you decrement its x value in the Size display, it moves to the left; if you decrement its y value, it moves toward the bottom of the screen; decrement its w or h values and it becomes smaller.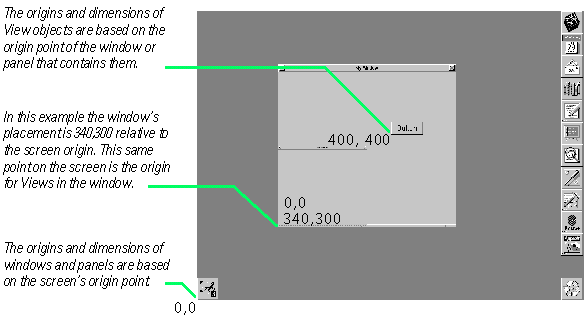 NeXT's Basic UI Design Philosophy
Composing a user interface involves much more than techniques for placing, sizing, and arranging objects on a window. When you put your application's UI together in Interface Builder, keep in mind the following principles that NeXT has developed, through trial and test, to guide interface designers.
Make It Consistent
When all applications share the same basic interface, each application benefits. Consistency makes each application easier to learn, and so increases the likelihood of acceptance and use. Just as with so many natural "interfaces" in life, conventions count for a great deal. Although different applications are designed to accomplish different tasks, they all share, to some degree, a set of common operations such as selecting, editing, scrolling, and setting options. Reliable conventions are possible only when these operations are carried out the same way for all applications.
Make it Feel Natural
Try to make the screen a visual metaphor for the real world, so that the objects in it reflect the way the represented things actually behave. That's what an "intuitive" interface is - it behaves as we expect based on our experience with objects in the real world.
Modeled objects don't have to mimic every detail of their real counterparts, but they should behave in similar ways. For example, objects in the real world stay where we put them; they don't disappear and reappear again, unless someone causes them to do so. Users should immediately recognize the objects in your interface and should use them for the sorts of operations that people typically use their real counterparts for.
Put the User in Charge
Users should have the widest freedom of action. If an action makes sense, your application should allow it. In particular, avoid setting up arbitrary modes, periods during which only certain actions are permitted. On occasion, however, modes are a reasonable way of solving a problem, particularly in these forms: